PHP Training in Hyderabad
100% Placement Assistance
PHP Training in Hyderabad New Batch (Online)
| | |
| --- | --- |
| Trainer Name | Mr. Raghu |
| Trainer Experience | 12+ Years |
| Course Duration | 70 Days |
| Timings | Monday to Friday (Morning to Evening) |
| Next Batch Date | 27th Oct 2022  |
| Training Modes | Classroom/Online |
| Location | Hyderabad |
Key Points Of PHP Training in Hyderabad
PHP Training Details - Fee, Duration & more
We are one of the Best PHP Training institutes in Hyderabad, which has trained more than 13000+ students and placed them across industries. We are providing real-time job opportunities to our students at the lowest possible Fee.
We provide all the details of placements and provide you with all the information about job requirements so that you can apply accordingly.
PHP is a popular server-side programming language used by many website developers and programmers.
 PHP is basically a very easy-to-learn and understanding language that makes your website easier to develop and maintain. 
PHP works by using a database management system called MySQL. There are several different ways of using PHP with MySQL. 
These include using PHP on a web server to perform tasks like storing information on a website and allowing users to create, modify or delete information on a website. 
Another common use of PHP and MySQL is for retrieving information from a database. You can use PHP for almost everything including forms processing, database access, file uploading, XML/XHTML generation, and much more.
This is called CGI or Common Gateway Interface. PHP is used to develop dynamic websites and web applications. It can also be used for database-driven websites. It is mostly used with the MySQL database management system.
If you are looking to learn the latest technologies and to gain knowledge then you should join our PHP Training in Hyderabad.
Enroll with Lamp Institute for the best PHP Training in Hyderabad with 100% placement assistance and be ready with confidence to face new challenges in the IT sector.
Modes of Training For PHP Course
Why choose us - LAMP for PHP Training?
Our courses have been designed by our experts who have helped thousands of students to become successful professionals. The best way to learn is to learn from an expert. Our trainers are expert PHP developers. They are certified professionals in the field of software development and will teach you everything that you need to know to be successful in the field of PHP.
We conduct a series of classes where you will be taught by our expert instructors. You will be assigned a trainer who will help you with the basics of the course and answer any questions you have about the subject.
You will not have to face any problems on the way because our trainers will make sure that you will understand the lessons. We undertake a limited number of students each batch for better individual training. Each batch consists of only 20 students.
Our courses come with lifetime access and unlimited availability. You will be able to access the content anytime, anywhere. You will be able to access our course materials on all your devices, including computers, tablets, and smartphones. Our course materials have been designed to provide you with all the tools you need to succeed in your career. All this is done through our extensive  Learning Management System.
If you're looking for a course that is very well structured and can guide you with a thorough understanding of PHP, then you must take PHP Certification Training from us. This training covers the basic to advanced features of PHP. The trainers will help you understand the concepts through live projects and hands-on exercises. If you are looking for a career in the IT industry then PHP Certification is a perfect choice.
We have a dedicated placement assistance team, which works with students and provides them guidance and support throughout their journey with us. Our Placement Assistance Team comprises certified professionals, who are experienced, qualified, and knowledgeable enough to help students build a career path. They are there to assist you at every step of your PHP training and help you in getting placed in the right organization.
Through these training years, we have trained 50+ Students with 25+ Placements in reputed MNCs located in Hyderabad at high salary packages.
This video course is for anyone who wants to learn to program using JQuery, HTML, Core PHP, Adv PHP and CSS, and JavaScript. We offer Online training and Recorded video course at an economical price.
LAMP Testimonials of PHP Training
Lamp training institute has been providing PHP training in Hyderabad for the past 10 years. The training course has been designed and developed by one of the best PHP training institutes in Hyderabad. We provide training in both online and classroom-based PHP courses. The trainer is very experienced and knowledgeable. He provides the training course in a very friendly environment.
Trainers are very patient and try to understand the doubts of the students. The training institute has provided PHP training in all the modules like HTML, CSS, JavaScript, MySQL, Apache, XHTML, etc. It is an advanced-level PHP training program. The training is very beneficial for students who are new to PHP. They teach students modules in a clear manner.
Lamp Training Institute is one of the best training institutes in Hyderabad. We offer training in PHP, MySQL, and Joomla. They offer training for beginners, intermediates, and experts in PHP. Trainers are extremely passionate about helping students learn. The teachers are experts who are trained by industry professionals and are available to answer questions.
I have completed my PHP training in Training and would recommend anyone who wants to do PHP training in Hyderabad. Their PHP training modules are very well planned and taught by excellent trainers. You can join PHP training online from anywhere in the world. The course is designed to make sure that you understand all the concepts of PHP and its features. You will also learn about HTML, MySQL, JavaScript, CSS, jQuery, Bootstrap, etc.
PHP Training provides comprehensive knowledge and expertise about the latest technologies of PHP. You can have a live session with the trainer to understand and clarify your doubts. This PHP Training is very helpful. I learned this course and found it very interesting. Good teaching skills and good environment. Very helpful and friendly faculty.
I completed the PHP course at this training institute. It is one of the best institutes in Hyderabad. You will learn a lot of PHP concepts during this training course. This course has helped me a lot in upgrading my career. I highly recommend this course to anyone who wants to learn a course at an economical price.
PHP Training Certification
PHP Training course completion certificate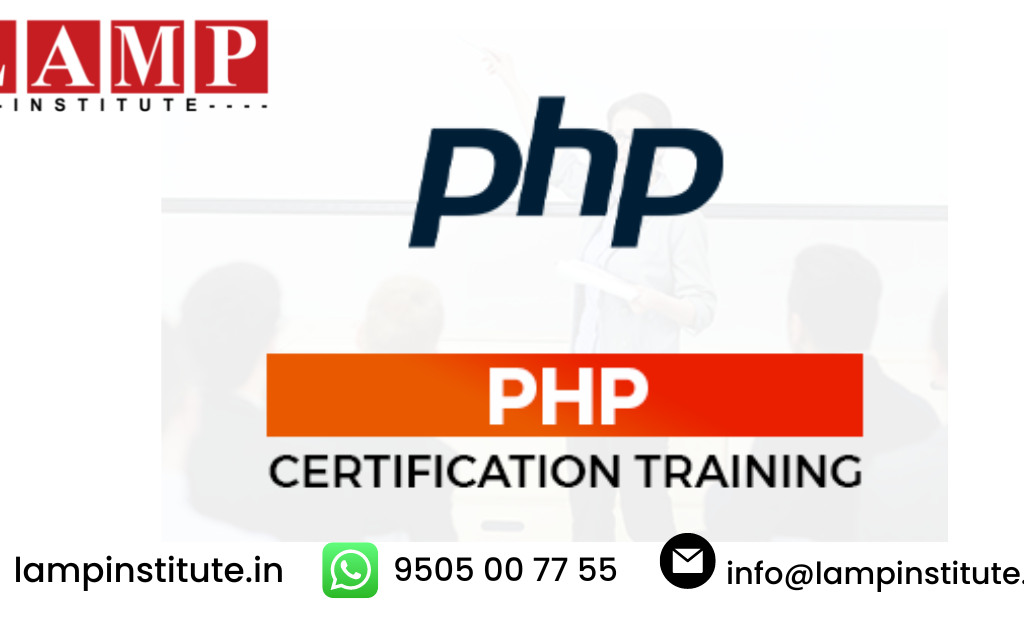 Advantages of attending PHP Online Training from LAMP
Skills developed after this PHP Online training in Hyderabad
Prerequisites of PHP Course
Career Opportunities after PHP Training
Which is the best PHP training institute in Hyderabad?
Lamp Institute is one of the well-known institutes in Hyderabad known for delivering practical knowledge with advanced teaching techniques to meet the current and future needs of industries.
What is the PHP training fee in Hyderabad?
The cost of PHP courses in Hyderabad varies as per the training different institutes offer. Our institute, Lamp Institute, provides a PHP course at an affordable price.
What is the average salary of a PHP developer in Hyderabad?
The average salary of a PHP developer starts from 1.2 Lakhs - 7.5 Lakhs annually.
Where can I find PHP training near me?
We offer PHP training in Kphb and PHP training in Hyderabad Ameerpet, you can visit us or get in touch with us for further queries.
What if I miss a class?
Students can make up for the missed classes by attending our next live Class/ Batch or we can also arrange backup classes for you.
Do you provide placement assistance?
Yes. To assist our students land jobs after the completion of their training program, we assist them by preparing them for mock interviews and resume preparation by guiding them through personal guidance from industry experts as a part of our PHP Training in Hyderabad.
Who are the trainers for PHP Training in Hyderabad at LAMP?
The trainers at Lamp Institute are trainers specialized in the field and have many years of working experience.