Java Training in Hyderabad
100% Placement Assistance
Java Training in Hyderabad kukatpally Batch Details
| | |
| --- | --- |
| Trainer Name | Mr. Raju |
| Trainer Experience | 6 Years |
| Course Duration | 2 Months |
| Timings | Monday to Friday (Morning to Evening) |
| Next Batch Date | 15th MARCH 2023 AT 11:00 AM |
| Training Modes | Classroom [HYDERABAD] / Online |
| Location | Hyderabad |
Java Training in Hyderabad
Course Curriculum
Key Points Of Java Training in Hyderabad
About Java Training in Hyderabad
Java is a language that was originally developed for server-side programming, but it has also been used for web application development. Java is a programming language that was originally developed by Sun Microsystems. 
It is a general-purpose, object-oriented, multi-threaded, interpreted, and class-based programming language. In addition to being a computer language, Java is also a framework for building enterprise applications. It includes tools for creating and deploying these applications. 
Lamp Institute offers the best Java training in Hyderabad with excellent training facilities. We have trained over 250+ students in Java with additional placements of over 90+ trainees. Our trainers are some of the most recognized and reputed coaches with prior experience in training and coaching students as well as corporate, working professionals in the field of java. 
We at Lamp Institute, are a team of passionate and dedicated professionals who understand what it takes to build an outstanding software development team. We will help you achieve your goals by creating a winning culture and helping you develop the right skills and knowledge. Our Java course is a comprehensive training course for beginners and advanced programmers. It covers the concepts of Java language in detail. 
Our java course training includes topics like fundamentals of Java, Java language syntax, Java OOP, J2EE, JDBC, Swing and GUI and more. We are a leading provider of Java training in Hyderabad. Our Java courses are designed to help you gain a strong foundation in Java. We help you develop your Java skills and prepare you for a career in Java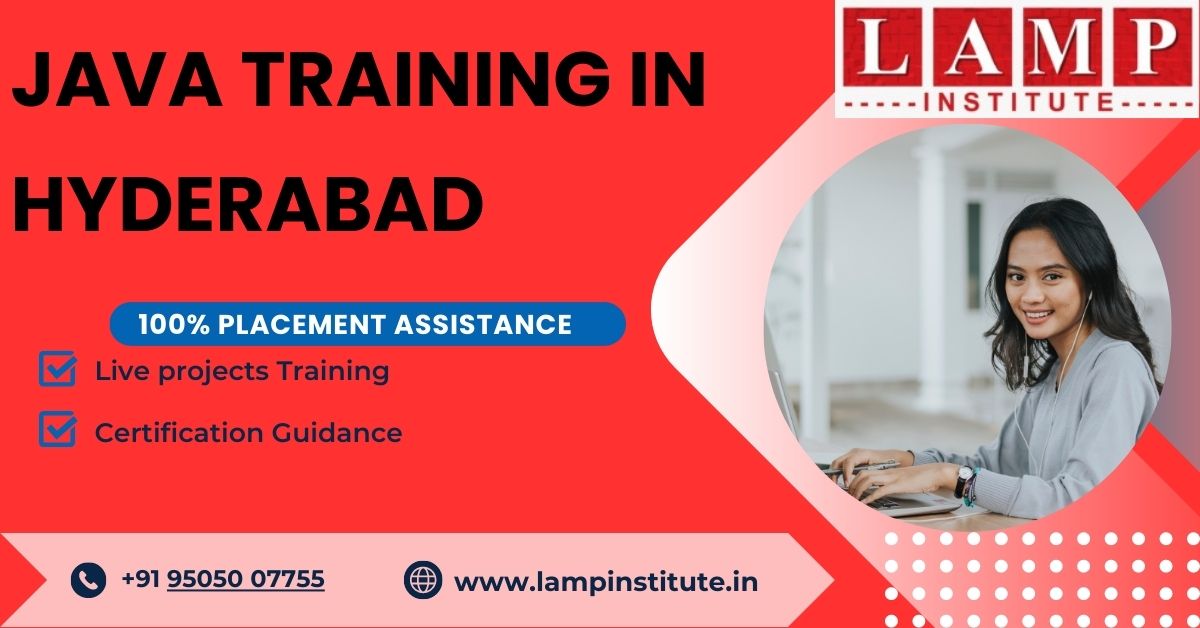 Modes of Training For Java Training in Hyderabad
Why choose us for Java Training in Hyderabad ?
We have a team of experienced and qualified trainers who have years of expertise in Java and its concepts. They have trained students, professionals and corporate employees in Java leaving behind an excellent track record and reputation for remarkable training.
We provide 100% job support. Once you complete our Java course training, you will also be given placement assistance training wherein you can attend our mock interviews and mock tests along with various rounds of group discussions and much more. 
We provide free backup training sessions so you can attend our java course training in hyderabad uninterrupted without missing out on any of the topics. You can also join our live training sessions for doubts or clarifications regarding the concepts.
We undertake a limited number of students in each batch for better individual training with Every batch consisting of only 20 students. Our training is not just classroom training but a real time practical training where we will be teaching you through live demonstration.
You will get 100% Java course certification along with java certification training. Our team of experts is dedicated to help you with your Java certification exam preparation and will walk you through all the major ins and outs of the course so you can learn Java from scratch with lasting skills.
We offer virtual java training via our e-learning platforms where we conduct a virtual java course with live interactive sessions for students with optional training modes that include java online training in hyderabad and java video course training in hyderabad. Our virtual learning can be accessed  from the comfort of your home.  
Testimonials of Java Training in Hyderabad Kukatpally
Lamp Institute is a good institute for java course training in Hyderabad. They have good staff who taught me java. I have learned many things about java programming. I was amazed by the Lamp Institute. It's an amazing institute for Java Certification in Hyderabad. They have the best trainers and maintain the best learning environment. Thank you so much to the entire team.
Lamp institute is the best place to learn Java Course.They are very experienced in java courses and they provide you with live projects. I took java training from the lamp institute and Their faculty was very nice. They will tell you how you can improve your skills and give you placement support as well by giving us mock interviews. I was really very impressed with the experience.
I have to say that I'm really satisfied with the Java course training in Hyderabad at Lamp institute. They have taught me a lot of things that will help me a lot. Their teaching methods are really cool and effective. They teach you everything in simple words that you can understand easily. Even if you are a beginner in programming you can get started with them. I recommend Lamp institute for any java course training in Hyderabad.
I got a chance to attend a java course training in Hyderabad at Lamp Institute. During the course, i learned lots of java concepts, the training was pretty good. If you want to learn java, i suggest you take up a course at lamp institute.
This is a great institute which provides real world training which is much better than the other institute. The course is designed by experts and they provide all required equipment. I enrolled for the online java training in Hyderabad at Lamp and I really enjoyed the classes which were fun, interesting and clearly explained by the trainers. Tysm
I have knowledge in Java and I have taken a course in online java course.I did it and it's totally new for me. It's so easy to learn.The instructor has a lot of knowledge and experience.The lessons are very well taught and understandable. Lamp institute is the best place to learn java training in Hyderabad.
Java Training Certification
You will receive a guaranteed Java certification issued by us after the completion of the Java course training. The Java certification will stand as a formal proof that an individual has the required knowledge and skill to perform Java programming tasks. 

We believe that the Java certification is considered as the first step in your career growth as it proves your skills and knowledge in the field of Java hence, our trainers also help you prepare for Java certification exams so you can greatly benefit from our course training in Hyderabad. 

The certificate that we offer will include your name, course details, date and time of attendance along with a verified seal of our Lamp Institute. The certificate will be sent to you as a PDF document which will then be emailed to you or you can avail it as a hard copy. Some of the most common Java certifications include – 

Java SE 8 Programmer I (1Z0-808)

Java SE 8 Programmer II (1Z0-809)

Java SE 11 Developer (1Z0-819)

Java EE Application Developer (1Z0-900)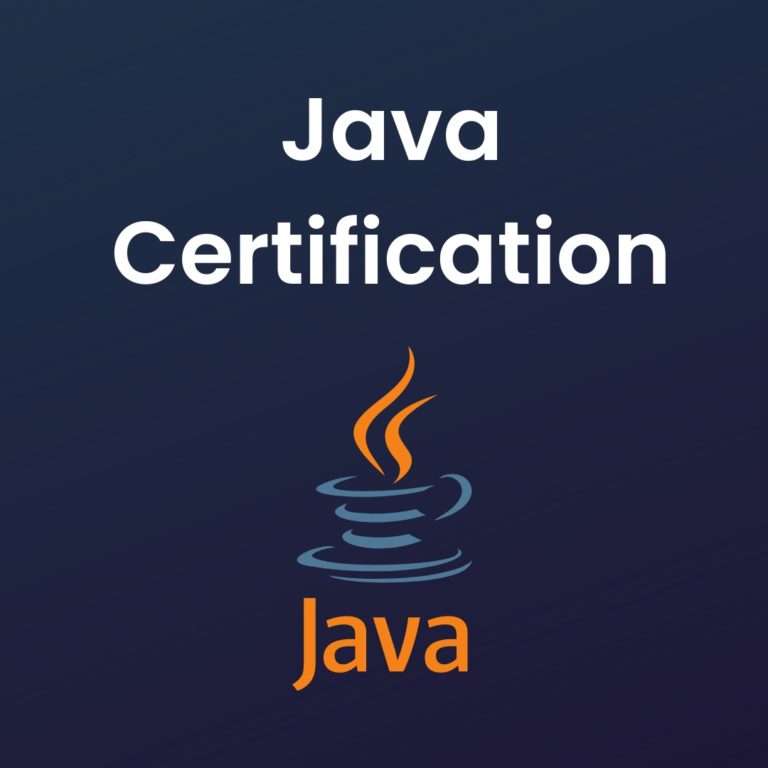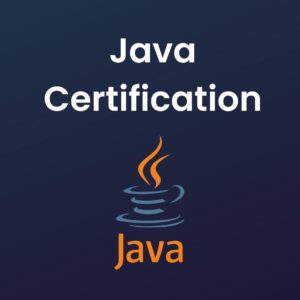 Advantages of learning Java Training in Hyderabad
Skills developed after the Java Training in Hyderabad
Prerequisites of Java Training in Hyderabad
Job roles & Designations in Java
Market Trend in Java Training in Hyderabad Kukatpally
Education Eligibility for Java Training in Hyderabad
Java Training in Hyderabad
FAQ's
Which is the best Java training institute in Hyderabad?
Lamp Institute is one of the well-known institutes in Hyderabad known for delivering practical knowledge with advanced teaching techniques to meet the current and future needs of industries.
What is the Java training fee in Hyderabad?
The cost of Java courses in Hyderabad varies as per the training different institutes offer. Our institute, Lamp Institute, provides a Java course at an affordable price.
What is the average salary of a Java developer in Hyderabad?
The average salary of a Java developer in Hyderabad is ₹5,07,595 per year based on the experience and skill of the candidate.
Where can I find Java training near me?
We offer Java training in Kphb and Java training in Ameerpet, you can visit us or get in touch with us for further queries.
What if I miss a class?
Students can make up for the missed classes by attending our next live Class/ Batch or we can also arrange backup classes for you.
Do you provide placement assistance?
Yes. To assist our students land jobs after the completion of their training program, we assist them by preparing them for mock interviews and resume preparation by guiding them through personal guidance from industry experts as a part of our Python Full Stack placement assistance.
Who are the trainers at Python Full Stack training in Hyderabad?
The trainers at Lamp Institute are trainers specialized in the field and have many years of working experience.