vue js training in Hyderabad
100% Placement Assistance
Vue js Training in Hyderabad Batch Details
| | |
| --- | --- |
| Trainer Name | Mr. Varma |
| Trainer Experience | 7 Years |
| Course Duration | 2 Months |
| Timings | Monday to Friday (Morning to Evening) |
| Next Batch Date | 16th MARCH 2023 AT 11:00 AM |
| Training Modes | Classroom [HYDERABAD] / Online |
| Location | Hyderabad |
Key Points Of Vue js Training in Hyderabad
What is VueJS Training in Hyderabad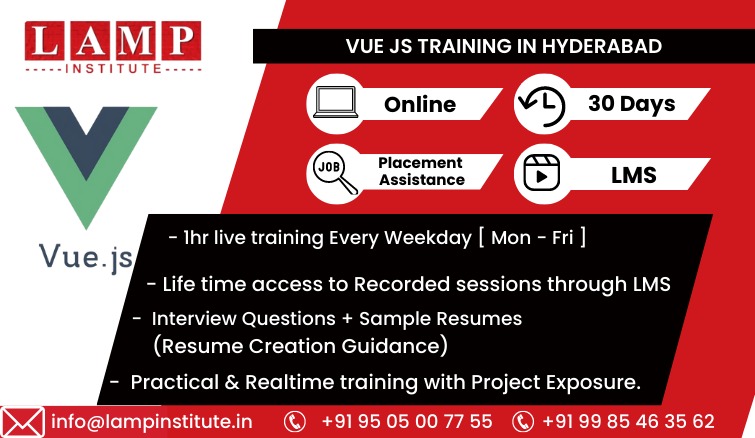 About Vue js Training in Hyderabad
We are one of the Best Training institutes in Hyderabad, which has trained more than 50+ students and placed them across industries. We are providing real-time job opportunities to our students. We provide all the details of placements and provide you with all the information about job requirements so that you can apply accordingly. 
Vue.js is a framework for building reactive web apps. You can use it to build single-page applications, but it is not limited to just that. You can also use it to build dynamic websites and other web apps. When you learn Vue.js, you will quickly realize that it's very similar to React. It is built on top of Vue.js and React.
The first component you should create is called a Vue instance. This is usually done in a file called index.html. You can also use a different name if you like. Then, you should add vue-loader to your package.json file.
This course will provide you with the skills you need to build real-world applications using Vue. js. It will teach you how to use its data-reactive components and how to use the power of JavaScript, HTML, CSS, and the Node.js framework to create dynamic web applications.
In this course, you will learn:
How to build and debug applications using Vue. js reactive components.
How to apply CSS to enhance the appearance of your application.
How to build reusable components to build faster apps.
How to integrate data-reactive components into your application.
How to use external libraries and frameworks.
If you are looking to learn the latest technologies and to gain knowledge then you should join our Vue.js Training in Hyderabad.
Enroll with Lamp Institute for the best Vue.js Training in Hyderabad with 100% placement assistance and be ready with confidence to face new challenges in the IT sector.
Modes of Training For Vue js Training in Hyderabad
Why choose us for Vue js Training?
Our courses have been designed by our experts who have helped thousands of students to become successful professionals. The best way to learn is to learn from an expert. Our trainers are expert Vue.js developers. They are certified professionals in the field of software development and will teach you everything that you need to know to be successful in the field of Vue.js.
We conduct a series of classes where you will be taught by our expert instructors. You will be assigned a trainer who will help you with the basics of the course and answer any questions you have about the subject.
You will not have to face any problems on the way because our trainers will make sure that you will understand the lessons. We undertake a limited number of students each batch for better individual training. Each batch consists of only 20 students.
Our courses come with lifetime access and unlimited availability. You will be able to access the content anytime, anywhere. You will be able to access our course materials on all your devices, including computers, tablets, and smartphones. Our course materials have been designed to provide you with all the tools you need to succeed in your career. 
If you're looking for a course that is very well structured and can guide you with a thorough understanding of Vue.js, then you must take Vue.js Certification Training from us. This training covers the basic to advanced features of Vue.js. The trainers will help you understand the concepts through live projects and hands-on exercises. If you are looking for a career in the IT industry then Vue.js Certification is a perfect choice.
 We have a dedicated placement assistance team, which works with students and provides them guidance and support throughout their journey with us. Our Placement Assistance Team comprises certified professionals, who are experienced, qualified, and knowledgeable enough to help students build a career path. They are there to assist you at every step of your Vue.js training and help you in getting placed in the right organization.
Through these training years, we have trained 50+ Students with 25+ Placements in reputed MNCs located in Hyderabad at high salary packages.
This video course is for anyone who wants to learn to program using Java, JavaScript, Ruby, Python, PHP, and Bash. We offer Online training and Recorded video course at an economical price.
Testimonials of Vue js Training in Hyderabad
I'm happy to join the Vue.js course by lamp institute their education delivering quality is top notch. Trainers are highly experienced they assist in getting placed by various means and by conducting mock interviews as well.
Study material provided by the lamp institute is very interesting and all the modules are explained in depth making students more confident in the core knowledge.
If you are looking for the best IT training institute in Hyderabad then don't waste your time you are at the right place. I'm an ex-student of lamp institute I learned Vue.js from them they are the most liable and trustable institute in Hyderabad.
The best part of the training was the practical session conducted by Rajesh sir trainer for our Vue.js course. He was very friendly and he made difficult modules easier to understand with his intelligence and experience.
I don't regret spending money for learning this course every penny of my money was very well spent. Trainers are professional and dedicated to training and giving individual attention to each and every student in the classroom.
I learned Vue.js from the video course created by lamp institute it was in detail and the easy accessibility to download it on any device has helped me learn a new skill without too much effort.
Exam preparation for Vue.js certification

Course completion certificate
Who uses VueJStraining in Hyderabad
Web interfaces and single-page apps are the main uses of VueJS. However, because the HTML extensions and JS base operate in association with an Electron framework, it can also be used for developing desktop and mobile apps, making it a highly favored frontend tool.
Some of the well-known companies which are using VueJS:
Advantages of learning Vue js Training in Hyderabad
Skills developed after the Vue js course training
Prerequisites of Vue js training course in Hyderabad
Job roles & Designations in VueJS
Education Eligibility for Vue JS Training in Hyderabad
As a full-time student, you must study in a two- or four-year college or university that grants degrees.
For VueJS positions, recruiters prefer candidates from all backgrounds.
Candidates or graduates without an IT or computer background can easily study VueJS with a basic understanding of programs like HTML, CSS, and javascript.
Who should learn Vue JS training in Hyderabad
Where to start learning Vue JS?
The best way to start learning Vue JS, Lamp Institute is one of the best institutes in Hyderabad with high quality teaching technology.
How is the career in Vue JS?
Vue JS has excellent growth. salary in India ranges between ₹ 2.0 - 11.0 lakhs with an average annual salary of ₹ 4.0 Lakhs.
Are Vue JS developers in demand?
Yes, there is high demand from MNC companies and other companies. Vue JS developers are hired directly as employees and web development agencies.
How long will it take to become a Vue JS Certified Developer?
It will take 1 month of course duration time, including this time you are able to devote each week and test the current level of your performance. Also will provide a curriculum.
Who can Enroll for Vue JS?
Vue JS for any graduates, who are looking for a good career in developer side. Also professionals like Developers, Solution Consultants can also enroll for this course.
Will I get proper practical training in Vue JS?
Yes, You will get real time experience in the Vue JS course during the training Program. We use excellent lessons to teach all the concepts of Vue JS training so that students will gain more knowledge.
What if I have more queries?
You can reach out to our customer service 24/7 for all your queries.
What if I am not satisfied with the training provided?
We work on 100% student satisfaction, however, in case you are not satisfied with our training we will provide you with additional specialized training.