React Training in Hyderabad
100% Placement Assistance
React Training in Hyderabad Batch Details
| | |
| --- | --- |
| Trainer Name | Mr. Ravi |
| Trainer Experience | 5 Years |
| Course Duration | 40 Days |
| Timings | Monday to Friday (Morning to Evening) |
| Next Batch Date | 15th MARCH 2023 AT 11:00 AM |
| Training Modes | Classroom [HYDERABAD] / Online |
| Call us at: | |
Key Points Of React Training in Hyderabad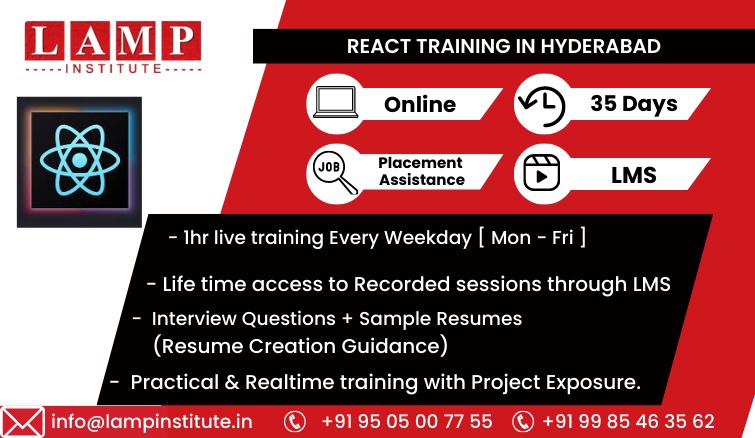 About React Training in Hyderabad
We are one of the Best Training institutes in Hyderabad, which has trained more than 50+ students and placed them across industries. We are providing real-time job opportunities to our students. 
We provide all the details of placements and provide you with all the information about job requirements so that you can apply accordingly. 
React is one of the most popular technologies that are used in the development process. The companies are looking for people who are skilled in this particular technology and are capable of using it. React developers use various tools to build different projects. 
To be a React developer, you must have the ability to understand and build apps. This is because the applications need to work across a wide range of devices. 
The React developers need to know the basic and advanced concepts related to the JavaScript programming language. React developers are expected to have excellent coding skills, as well as HTML, CSS, and JavaScript skills. The major focus is on building apps and designing layouts that are responsive and fast.
React training provides real-time opportunities to our trainees. So, if you are searching for a good React Training institute in Hyderabad, then look no further than us. We have the best trainers for React Training in Hyderabad. 
Our training will not only make you a proficient React Developer but also help you to get placed in various reputed companies. If you are looking for React Training institute in Hyderabad, then look no further than us. 
We are here to help you with all your queries related to React Technology. So, if you are planning to enroll in React training course in Hyderabad, then look no further than us. We provide complete assistance to all our students with the best React Training in Hyderabad.
If you are looking to learn the latest technologies and to gain knowledge then you should join our React Training in Hyderabad.
Enroll with Lamp Institute for the best React Training in Hyderabad with 100% placement assistance and be ready with confidence to face new challenges in the IT sector.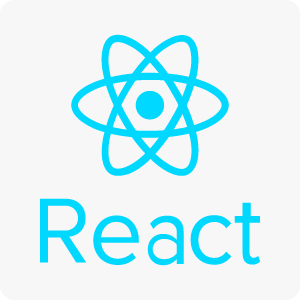 What is React Training in Hyderabad
Modes of Training For React Training in Hyderabad
Why choose us for React Training?
Our courses have been designed by our experts who have helped thousands of students to become successful professionals. The best way to learn is to learn from an expert. Our trainers are expert React developers. They are certified professionals in the field of software development and will teach you everything that you need to know to be successful in the field of React.
We conduct a series of classes where you will be taught by our expert instructors. You will be assigned a trainer who will help you with the basics of the course and answer any questions you have about the subject.
You will not have to face any problems on the way because our trainers will make sure that you will understand the lessons. We undertake a limited number of students each batch for better individual training. Each batch consists of only 20 students.
 Our courses come with lifetime access and unlimited availability. You will be able to access the content anytime, anywhere. You will be able to access our course materials on all your devices, including computers, tablets, and smartphones. 
If you're looking for a course that is very well structured and can guide you with a thorough understanding of React, then you must take React  Certification Training from us. This training covers the basic to advanced features of React. The trainers will help you understand the concepts through live projects and hands-on exercises. If you are looking for a career in the IT industry then React Certification is a perfect choice.
We have a dedicated placement assistance team, which works with students and provides them guidance and support throughout their journey with us. Our Placement Assistance Team comprises certified professionals, who are experienced, qualified, and knowledgeable enough to help students build a career path. They are there to assist you at every step of your React training and help you in getting placed in the right organization.
Through these training years, we have trained 50+ Students with 25+ Placements in reputed MNCs located in Hyderabad at high salary packages.
This video course is for anyone who wants to learn to program using HTML, CSS, and JavaScript.We offer Online training and Recorded video course at an economical price.
Testimonials of React Training in Hyderabad
I learned React course from basics concepts. Trainers are very helpful they have helped me understand HTML, CSS, and other skills as well. I'm very much happy to be part of the lamp institute.
I completed a video course from lamp institute their assistance has helped me a lot in upgrading my career.I'm thankful to the experts.Trainers are well experienced in this industry they know all the requirements in this industry.
Curriculum is designed in such a way that it has covered all the important aspects of the course in a well organized manner.I highly recommend this course to anyone who wants to learn something new at an afforadable price.
Explanation is done in a very interesting way and the practical sessions has helped me get hands on experience on the technical aspects of course.Mock Interviews was also a great expericence.
Hi I'm Asif Iqbal from bahrain, I'm student of React video course it was an pleasant journey with lamp institute there weekly doubt clearing session were the best thing during the course it helped me learn a new skill while doing my regular job as an banking professional.
React training has boosted my confidence in web development as a web developer I was facing a lot of challenges for creating a website with clean UI but after the course completion at lamp institute the story has completely changed.
React course completion certificate
Advantages of learning React Training in Hyderabad
Skills developed after the React course training
Prerequisites of React training course in Hyderabad
Job roles & Designations in React
Market Trend in React Training in Hyderabad
Education Eligibility for React Training in Hyderabad
Process to clear the certifications of React Training in Hyderabad
Where to start learning React?
The best way to start learning React, Lamp Institute is one of the best institutes in Hyderabad with high quality teaching technology.
Does React have a good career?
Yes, React has the best career. The demand for digital needs asks for React JS. For any web development, UI is important. More than 12,000+ requirements with React JS skills.
React useful for learning in 2023?
React JS Develop as one of the biggest libraries used by developers. React web development was the second most used framework in 2022 with 46% of software developers.
How long will it take to become a React JS Certified Developer?
It will take 1 month of course duration time, including this time you are able to devote each week and test the current level of your performance. Also will provide a curriculum.
Who can Enroll for React JS?
React JS for any graduates, who are looking for a good career in developer side. Also professionals like Developers and Business, Solution Consultants can also enroll for this course.
Will I get proper practical training in React JS?
Yes, You will get real time experience in the React JS course during the training Program. We use excellent lessons to teach all the concepts of React JS training so that students will gain more knowledge.
What if I have more queries?
You can reach out to our customer service 24/7 for all your queries.
What if I am not satisfied with the training provided?
We work on 100% student satisfaction, however, in case you are not satisfied with our training we will provide you with additional specialized training.