AWS Training in Hyderabad
100% Placement Assistance
AWS Training in Hyderabad Batch Details
| | |
| --- | --- |
| Trainer Name | Mr. Vijay |
| Trainer Experience | 7 Years |
| Course Duration | 2 Months |
| Timings | Monday to Friday (Morning to Evening) |
| Next Batch Date | 15th MARCH 2023 AT 11:00 AM |
| Training Modes | Classroom [HYDERABAD] / Online |
| Location | Hyderabad |
Key Features of AWS Training in Hyderabad
About AWS Training in Hyderabad
We are one of the Best Training institutes in Hyderabad, which has trained more than 50+ students and placed them across industries. We are providing real-time job opportunities to our students. We provide all the details of placements and provide you with all the information about job requirements so that you can apply accordingly. 
AWS offers several types of cloud computing services. These services include Amazon Simple Storage Service (Amazon S 3), Amazon Simple Queue Service (Amazon SQS), Amazon Elastic Compute Cloud (Amazon EC 2), Amazon SimpleDB (Amazon S DB), and Amazon Relational Database Service (Amazon R DS). Amazon Web Services can be used to create web applications, databases, content management systems, and mobile apps.
The company was founded in 2002 by Jeff Bezos, a former vice president at Amazon.com, and operates with offices around the world. AWS is based in Seattle, Washington. In 2011, it generated $37 million in profit. Amazon Web Services is the largest public cloud infrastructure company.
AWS is a subsidiary of Amazon. It is an organization that provides web services to individuals, companies, and governments, on a metered pay-as-you-go basis. AWS offers its services through the internet. Individuals, companies, and governments can use the services of AWS on a pay-as-you-go basis.
 These services include web hosting, e-commerce hosting, application hosting, database hosting, and data storage. In order to use the services of AWS, you will first need to sign up with AWS. You can do this online or over the phone.
You can use Amazon Web Services (AWS) to create and host your own websites, blogs, applications, or any other type of content. This is useful if you want to host your own website and have others visit it. This service is very popular with people who want to create their own business. It is also a good option for students. There are lots of advantages to using the Amazon web services to create your website or blog. 
One of the greatest benefits of using this service is that you can easily share it with friends and family. They can easily access your website or blog by just typing your domain name into their web browser. Another benefit is that your website will load faster than your local web hosting company.
If you are looking to learn the latest technologies and to gain knowledge then you should join our AWS Training in Hyderabad.
Enroll with Lamp Institute for the best AWS Training in Hyderabad with 100% placement assistance and be ready with confidence to face new challenges in the IT sector.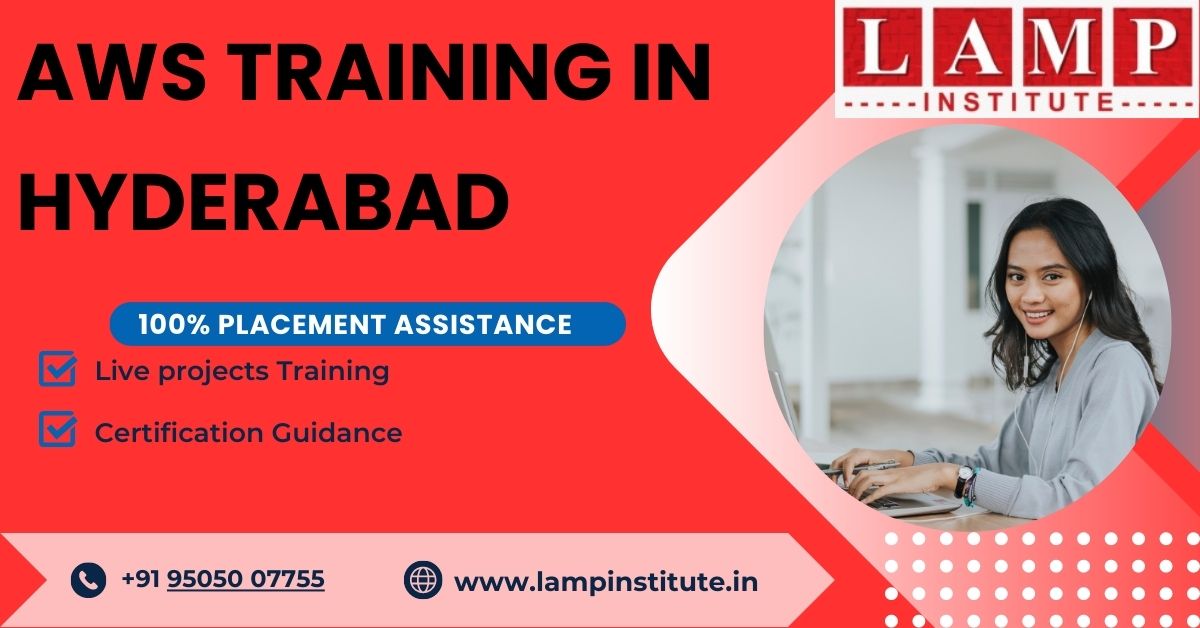 Modes of Training For AWS Training in Hyderabad
Why choose us for AWS Training?
Our courses have been designed by our experts who have helped thousands of students to become successful professionals. The best way to learn is to learn from an expert. Our trainers are expert AWS developers. They are certified professionals in the field of software development and will teach you everything that you need to know to be successful in the field of AWS.
We conduct a series of classes where you will be taught by our expert instructors. You will be assigned a trainer who will help you with the basics of the course and answer any questions you have about the subject.
You will not have to face any problems on the way because our trainers will make sure that you will understand the lessons. We undertake a limited number of students each batch for better individual training. Each batch consists of only 20 students.
Our courses come with lifetime access and unlimited availability. You will be able to access the content anytime, anywhere. You will be able to access our course materials on all your devices, including computers, tablets, and smartphones. Our course materials have been designed to provide you with all the tools you need to succeed in your career. 
 If you're looking for a course that is very well structured and can guide you with a thorough understanding of AWS, then you must take AWS Certification Training from us. This training covers the basic to advanced features of AWS. The trainers will help you understand the concepts through live projects and hands-on exercises. If you are looking for a career in the IT industry then AWS Certification is a perfect choice.
We have a dedicated placement assistance team, which works with students and provides them guidance and support throughout their journey with us. Our Placement Assistance Team comprises certified professionals, who are experienced, qualified, and knowledgeable enough to help students build a career path. They are there to assist you at every step of your AWS training and help you in getting placed in the right organization.
Through these training years, we have trained 50+ Students with 25+ Placements in reputed MNCs located in Hyderabad at high salary packages.
This video course is for anyone who wants to learn AWS using Networking, and Data storage fundamentals, Security foundations. We offer Online training and Recorded video course at an economical price.
Testimonials of AWS Training in Hyderabad
The AWS training I received from Lamp Institute completely changed my career. I developed a thorough understanding of AWS services thanks to the practical approach and knowledgeable instruction from the lecturers. I can now work with cloud solutions in my career with confidence. highly recommended
I was skeptical about online training, but Lamp Institute exceeded my expectations. The live sessions were interactive, and the trainers made complex AWS concepts easy to understand. The practical exercises were immensely helpful, and I'm thankful for the strong foundation I gained
The classroom training at Lamp Institute was exceptional. The trainers' industry experience shone through as they shared real-world examples. The projects we worked on simulated actual scenarios, giving me the confidence to apply my skills in real jobs
Being a working professional, the pre-recorded videos from Lamp Institute were a lifesaver. I could learn AWS at my own pace and revise concepts whenever I needed. The content was comprehensive and well-structured, and the support team was always responsive to my queries.
I can't thank Lamp Institute enough for their placement assistance. Not only did I receive top-notch AWS training, but their guidance in building my resume and preparing for interviews truly set me up for success. I secured a great job in the cloud industry shortly after completing the training.
Lamp Institute is a renowned training provider in Hyderabad, India. They offer several programs to train the candidates for AWS. Their AWS training has been designed to prepare the candidates for the test by providing them with complete knowledge about the exam content and syllabus.
What is AWS Training in Hyderabad
Advantages of learning AWS Training in Hyderabad
Skills Developed Post AWS Training in Hyderabad
Prerequisites of AWS training course in Hyderabad
Education Eligibility for AWS training in Hyderabad
Market Trend in AWS training in Hyderabad
Job roles & Designations in AWS
Process to clear the certifications
What is AWS training, and why is it important?
A: AWS training is a program that teaches individuals how to use Amazon Web Services (AWS) cloud platform effectively. It's important as AWS is widely used in the industry, and training helps individuals gain skills for cloud-related job roles.
Q: Who can enroll in AWS training at Lamp Institute?
A: Anyone interested in cloud computing, IT professionals, developers, and students looking to enhance their AWS skills can enroll in our training programs.
Q: What training formats are available?
A: Lamp Institute offers classroom training for in-person learning, online training for remote flexibility, and pre-recorded videos for self-paced learning.
Q: Are the trainers experienced?
A: Yes, our trainers are experienced professionals with industry knowledge and AWS certifications, ensuring high-quality training.
Q: What will I learn during AWS training?
A: You'll learn about AWS services, cloud concepts, deployment, management, security, and optimization, preparing you for various AWS-related roles.
Q: Are there practical exercises and projects?
A: Yes, our training includes hands-on labs, practical exercises, and real-world projects to provide practical experience with AWS services.
Q: How will AWS training benefit my career?
A: AWS training enhances your skills and knowledge in a highly sought-after field, making you more competitive for cloud-related job roles.
Q: Is job placement assistance provided?
A: Yes, Lamp Institute offers job placement assistance, including resume building and interview preparation to help you secure AWS-related positions.
Q: Do I receive a certification after training?
A: Lamp Institute provides course completion certificates. Additionally, AWS certification exams are separate and can be pursued after training.
Q: How do I enroll, and what's the duration of the training?
A: You can enroll through our website or contact us directly. The training duration varies based on the specific course you choose.